2016.04.15 補充:目前不再提供以下的WORD檔,Sorry
2014.07.26 No more homeless in Berlin ( introduction of yourself for WG )
只能說自己還是有一些小幸運的,我最後還是靠著WG-gesucht 找到一間能從八月中租到十二月底的房子,一切都給感謝Daniel 和Max給我這個機會。
I would say the fortunate goddess still granted her smile to me. Finally,via WG-gesucht and thank to Max and Daniel giving me this chance, I found a house to live from the middle of August to the end of this year.
In fact, I was initially contacted with another Spanish guy for a really cheap and international flat (255EUD all bills incl. and really close to Hartnackschule), but unluckily, he seemed to be really passive (called him 3 times and he said he was busy and would reply me on Facebook, but actually he never did it. ) and finally told me impatient that they are searching for people who can live at least one year and a student in university, What a pity, which make me really depressive for the whole Saturday morning , but I still keep browsing every AD on WG-gesucht.
I found a one which was posted on 07.24 and with handy number, so I just gave it a shoot without a lot of hope. But luckily, even though the guy on the other side of handy did not speak good English, but we still arrange an appointment at 1 pm , directly in from of their building.
The place is at the east boundary of Berlin, quiet, a lot of tree, parks, churches and running a lot of S-Bahn on the streets. The building is not very big or leisure, but really classical.
Daniel and Max went to the market by orange car before I came, so I also helped them taking 2 bottles of cola. Then we talked a little bit about myself. Max, who are going to travel in Vietnam, is the guy who rent out his room. His room isn't big, but everything is in order and really clean. They also told me that there are still 3 more people who wanted this flat which make me in despair again. They will inform me on Monday whether I am entitled to live in this flat.
Just few minutes on foot away their house, Max called me back and said they would like to "make coffee" for me. I was delighted, because it means I have more chance to introduce myself and make every effort to convince them of renting me this room.
But it turned out to be a super surprised. I misunderstood Max. He said "making contract", instead of "making coffee". Then, everything went smoothly and we also made contract, typing in front of computer, together.
Even though I am glad to be no more straying and worry, I still need to waste some money. Because:
Place I live now: from 7/13—8/15. The landlady, a Taiwanese girl, prefer me to stay at least at the middle of August, or I cannot get my deposit back. I still need to pay her 250 EUD for the August.
The new place: the rental period is from 8/07—12/31. The rental of August is 266 EUD, plus, 80EUD for month U-Bahn ticket, due to the long distance form Hartnackschule. (But I will join Tandem Berlin from September, and the new place is really close to it.)
So totally, I need to spend about 600 EUD for August!! Omg!!
But, anyway, I still get the house.
雖然說之前曾經對WG絕望過,但畢竟他還是一個很大、很完整的網站,最重要的是,他的英文轉介翻譯功能很完整,不像大多數租房網站都翻的亂七八糟,所以,每天從語言學校放學回家,第一件事就是開電腦,開始看WG的新廣告。
WG 租屋經驗:柏林流浪,逐WG的日子、交換學生的交換日記。
WG 租屋要訣:慕尼黑台灣同學會(同學會上熱心的人還是不少的)
1. 首先,自我介紹真的很重要。寫的太短,太簡便,是不會有人理你的。而我一開始還不知道在柏林找房的競爭,所以都沒要沒緊的寫一些簡單的問候語,往往最後都石沉大海。最後還是同學會上的大大善意提醒,才開始好好寫自介,而真的,我的自介一完整,馬上回信的人就變多了。以下是自介:
Hallo, 對方姓名
Wie geht's ?
Ich bin Hengbo und komme aus Taiwan.
I AM REALLY INTERESTED IN THIS FLAT, WG LIFE AND ROOMMATES!
This is my first time going aboard and all on my own!
I have been in Berlin about 1 month and now eager to find a long/short term staying.
Here is some information about me and about this flat (below).
In Brief
My name is 隱私, 隱私years old Taiwanese male.
Currently the student in Hartnackschule and I will keep learning German.
I do not have any bad habits, don't smoke nor drug abuse and very clean.
Long version below!
Basic details about myself
Password name (nockname/ vorname) : 隱私
Age/Sex:隱私
Nationality: Taiwan (a tiny island next to China, but not China)
Visa: Working holiday visa (duration: from 6/23, 2014—6/23, 2015)
Position: student in German language school.
Language I speak:
Chinese (Taiwanese native speaker, the words we use is traditional character)
English (advanced, TOEFL-iBT 90/120)
German (Elementary, from A1)
Current life
One day schedule:
Waking up at 7:30 am and going to school. After school, maybe take a nap between 1pm- 3pm, using computer, studying, hanging out and then sleeping at 12pm.
Current housing:
Now, I lived in a short term living near the U- Wittenbergplazt, 500 EUD a month. (2 months, from 7/13--8/31). It is really expensive rental, so I would like to find some place cheaper than this.
Learning German:
I study German from A1 in Hartnackschule , a language school near the U-Nollendorfplazt. I attend morning class from 9am t0 12am on weekdays. Class in there is really interesting for me and I meet a lot of people with different background and different nationality.
My destination:
I hope I can reach the level of German C1, because studying in the universities of Germany is also one of my options. (Other option is Canada)
---if you are interested, keep reading. It is kind of like diary---
Experience in Berlin:
So far, I would say I have good experience in Berlin. People here are really friendly, some of them even say hello and smile to me which touched me.
I begin to make new friends here. Brain, an Irish guy, sheltered me when I cannot find a place to live. (Even though, I still need to pay him via AirBnB, but it is worthy). He is really helpful and generous. Tony is a Scottish guy and my classmate in language school. We went to Siegessäule together. He said he would vote yes for independence of Scotland. Kia is a 17 years old school boy from Munich and visit Berlin with his classmate. We meet each other from interpals. Honestly, we did not talk a lot on internet, but we did have good time when we meet each other and he also invited me to a free meal with his teacher and classmates. All of them are so curious and friendly to me. That is the best night I have ever had in Germany.
Read more on my blog : 逐月的獵手http://forest21056.pixnet.net/blog
(I will try to add more English and German version. ENJOY)
Background
I used to study in Kaohsiung medical university and my major was medical chemistry. But after finishing the freshman year, I found what I studying is boring and meaningless. I decided to drop out of university (2012/09/13---2013/06/22) and finished my 4 months military training (2013/07/09---2013/10/25). After that, I worked in convenience store 7-eleven (It is my first job, 2013/11/04—2014/04/20) and meanwhile applied working holiday visa of Germany. And now, it is my second year drop out.
If you feel my experiences are really interesting, feel free to ask me anything.
For example, cigar in Taiwan is really cheap , LuckyStrike is less than 2 EUD a pack.
Life can be tough at any time, harsh scolding from monitors and merciless complaining from customers cannot never be much louder. Of course, you have to find something funny and interesting from difficult time. Want to know what did I find?
Character & Habits:
No bad habits
Clean, non-smoking, non- drinking, no drug or sex abuse
Who I am
Making sense, little silly and little tricky, innocent, easy and simple, sensitive, good listener, good adviser, quiet but can be social, not a party-rock person, cry loud and laugh hard, needy for sense of security, over-polite, eco-friendly, curious to others but caring my own privacy.
Interested in
Reading, hang on social network, using computer, writing blog or novel, learning English and German, learning how to become a Chinese tutor, watching funny and stupid films, cannot live without music
What I suck at
Dance like falling, cook like sea monster, gym will be the last place I would like to go.
Taste
1. Music: American pop music, Nightcore, classical music (Debussy and Chopin), soft and relaxed music(羊毛與千葉花、A little happiness)….
2. Movie/ Film/ Anime: Lord of the rings, Scary movie 1-5, KnallerFrauen, Fairytail, Naruto.
3. Novel: Twilight 01 , Lord of the Rings(all),水鬼學校與失去媽媽的水獺。
Why I love this flat:盡量依照出租者的廣告,寫些溢美之詞。
1. I would like to make some international friends and I think WG is a very good option.
2. The rental is cheaper. (all bill included)
3. From Picture, your room is really clean, bright and beautiful.
4. The place is really close to Hartnackschule.(語言學校、工作場所、大學等)
Questions about flat:
1. Do you need to have a lot of paper work?!
 What else information should I offer you?!
 What kind of contract should I make? In English?
2. Can this house do the resident registration?
3. Is it necessary for me to buy whole of staff in your room?
4. What more rules should I abide by?
5. May I invite someone to this room if I live in this room in the future?
6. The possible duration I can cover : 能住的時間,最好是能全部涵蓋,錄取率較高。
7. When is the possible time for me to check the room?
Contact:
Email:隱私
Skype: 隱私
Handy: 隱私
Thank you so much!
Have a nice day!
2. 如果對方有在廣告下方附上電話或是臉書,不要懷疑,請馬上行動。電話是最有效率的方式,請想盡辦法盡量爭取到見面的機會。
3. 不會德語沒關係?雖然之前版上很多大大都說不會德語,找房會非常吃虧。也有看過廣告直接道明只租給講德語的人,但畢竟是少數。我看到不少廣告其實都有註明歡迎 international ,加上Daniel 也說我不會德語沒關係,不會影響到我是否能住這間房子,因為他也能說英文。(我常常會把語言列列入我的考量,只說德語者我往往都會先刪除,但這就是當時Max貼的廣告,而我還是租到房子了。)
4. 最後,還是要告訴大家,運氣真的很重要,我能找找到這間房子其實不是靠這封自我介紹信。
這是我第一間有機會面試的房子,也透過稍稍裝可憐,還有金錢上的妥協,才拿到契約。
金錢上的妥協:是因為前一個房東的租期和新房東的租期有cover到,所以只好多付了一些錢。免得到時候又花更多時間、心力和金錢找房子,只能說以為小的犧牲來換取最重要的。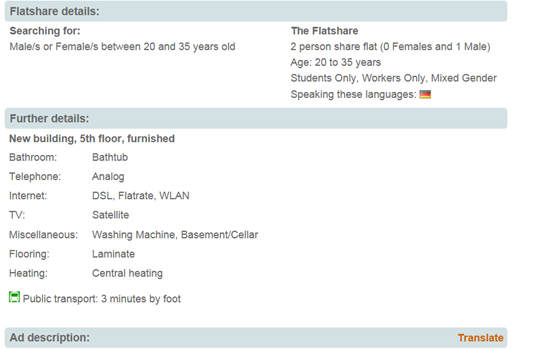 能整理起來的大概也就這兩點了,另外WG上亂七八糟的東西也不少,像是還看過有廣告說他們是一個天體營WG,在家中室友之間是可以坦誠相見的。
只能說找WG真的要非常有耐心和毅力,而且要有可能會找上一到兩個月的心理準備,我至少寫了五十封的信,得到有回復的不超過十位,而這十位當中有的不是突然斷了聯繫,就是說房子已經被租走,或是條件不合。我這次租到的房子是靠電話連絡的,並沒有email.。總之,還算幸運,希望以後和Daniel相處融洽。
2018年最新的WG故事,全在新的部落格喔!歡迎參觀:逐月的獵手(留學德國)
[明斯特Münster][長期住宿] 我在德國的WG第二戰心得
[明斯特Münster][長期住宿]尋找WG的時間 (1):擦肩而過的機會
[明斯特Münster][長期住宿]尋找WG的時間 (2):不得不把握的機會
[明斯特Münster][長期住宿]尋找WG的時間 (3):未來的機會